Course details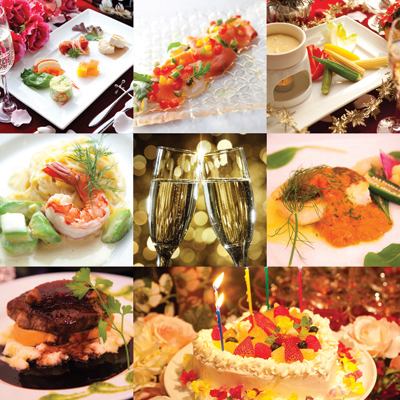 【Full course of luxury 12 items】 Birthday dinner course 5400 yen 【With heart shaped hall cake】
By using a coupon5400 yen
On 2 important anniversary ... Full courses of luxury 12 items! Various surprises are prepared according to the scene! 【DVD image creation】 【Photo cake containing photo】 【Champagne Tower】 【Fruit bouquet】 ※ Please send image data by LINE by the previous day! LINE ID @ 3s - tres
Course menu
※ All you can drink + 500 yen (excluding tax) ~
※ LINE reservation acceptance started now! LINE ID @ 3s - tres
【aperitif】
★ Today's aperitif
【Appetizer】
★ 5 kinds of appetizers
★ Seafood carpaccio
【salad】
★ Bagna cowder of seasonal vegetables
【pasta】
★ Seafood cream pasta
【Fish Main】
★ Seasonal Fish Poiré Degre Resource
【Meat Main】
★ Foie Foie gras and fillet of Rossini
【dessert】
★ Pastry Chef's Special Heart Shaped Hole Cake
********************************************************************
【Optional free surprise】
■ Birthday balloon indoor decoration
★ Surprise movie DVD production (1 DVD for 1 takeaway! For additional 1000 yen per sheet)
* We will display a photo slideshow and message on the seat monitor !!
※ Please send picture material to LINE ID @ 3s-tres by the day before.
In addition, comment movies etc. are totaled within 5 minutes, and photos are limited to 30 pictures.
* Production fee will be charged depending on the prescribed number of sheets and requested content.Please contact us.
■ Request Song
Down light
■ Crackers
■ Immediate day hand delivery photography
■ Lending birthday goods
■ Plate message
■ Colored Paper Message Card
■ Present beforehand deposit
We will hand it along with the cake director!
★ Cinderella birthday ♪
0 o'clock The birthday surprise will be produced at the moment when the date just changed!
【Charged option】
★ Dress cake of the topic now 3000 yen (tax excluded)
★ Original illustration cake 3000 yen (excluding tax)
■ Fruit bouquet 5000 yen (excluding tax)
■ Photo cake with photo 2,000 yen (tax excluded)
■ Fireworks! Birthday cocktail 500 yen (tax excluded)
■ Prepare bouquet 2000 yen (tax excluded) ~
■ Change to heart-shaped hall cake (number of people × 200 yen)
■ 1 bottle of Champagne Tower (excluding tax) (free service with use of coupons for over 8 people!)
Reservation deadline

Until 23 o'clock on the desired shopping day
Available days for reservation

Monday - Sunday - Public holidays - Holidays
2018/11/06 update